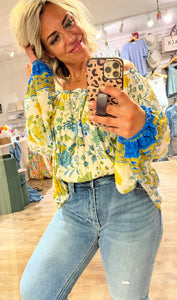 Filters used to maintain continuity.  Please view swatch for true colors.
Please see this weeks Shop The Tour LIVE on Facebook for sizing and fit information!
You MUST PREAUTHORIZE or the item will not be pulled from the sales floor.
Select your size and preauthorize the piece.  If we are able to fulfill your request, you will be charged automatically for the item.  You will receive an email confirmation which clearly states what piece you are now the proud owner of.  You will NOT BE CHARGED for any item we are not able to fulfill for you.
You will only be charged shipping one time in a 24 hour period.  If you preauthorize multiple pieces from Shop The Tour and they are fulfilled at different times, you will only be charged shipping once.  

If you have any additional questions, please email shopthetour@chosenbystephanie.com